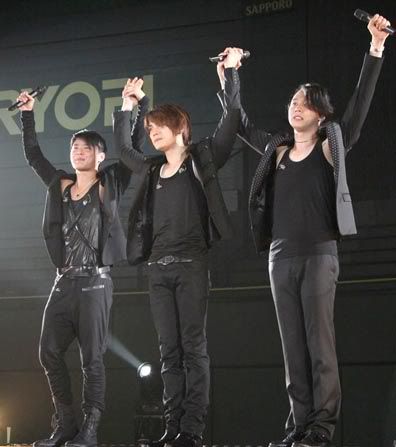 Junsu, Jejung & Yuchun, who cried at the response of the fans at Tokyo Dome for the last day of their Live Performance.
Stopping all activities since April, Korea's 5-member group Tohoshinki's Junsu, Jejung and Yuchun ended their "JUNSU/JEJUNG/YUCHUN THANKSGIVING LIVE IN DOME" at Tokyo Dome on the 13th of June. Jejung, who cried at the very first song in the Osaka Performance said "No matter what pain and sadness we've been through, we've endured it, we have been bearing with it." And admitted to the emotional pain that they have been though. "But from here, I can see the crying faces of everyone, and that makes me sad, so from now on, I want to smile properly. To see everyone enjoying themselves, I think it's better if we show you the happy side of ourselves," he said. However, as they sang their new song during the encore, that was the moment that tears started to flow among the audiences below the stage.
This Live was performed at 2 different venues, with a total of 4 performances. Nearly 1 million applications for tickets were received, and Kyocera Dome was packed with 46,000 fans, a record breaking audience number for Kyocera Dome. Tokyo Dome was packed with 54,000 fans daily. The live, inclusive of the encore, saw a total of 18 songs performed, with 4 new songs being performed by the 3 members.
Yuchun, who cried at the Tokyo Dome encore stage, said "Last year was the first time, and this is the second time. (Last year) I really wanted to stand on the Tokyo Dome stage again, but I was worried"he admitted. Junsu said, "When this (Live performance) was decided, it was really like a dream. Because we don't want to disappoint everyone who is supporting us, we want to work hard on this stage,"choking on his words.
From now, Junsu will be performing as solo artist XIAH Junsu, as well as a trio unit together with Jejung and Yuchun.
Source: [Daily News Digital]
Translation Credits: ssunsett@tohosomnia.net
Shared by: tohosomnia.net

Please do not add on/remove credits